Making money in 2023 is possible with Survey Junkie/ Recognized as one of the latest and greatest survey site that can help you do just that.
With its modern and easy-to-use interface, thousands of surveys to choose from, and great rewards, Survey Junkie in 2023 is sure to be your go-to survey site.
In this piece of content, we at betahustler will be reviewing Survey Junkie 2023, covering everything from the registration process to the rewards available.
Read on to find out if Survey Junkie 2023 is the best survey site for you.
What is Survey Junkie?
Survey Junkie is one of the leading survey sites on the web. It's an online platform that allows users to complete surveys for cash and other rewards.
The company has been in business since 2013 and has grown in popularity due to its user-friendly platform and generous rewards.
Survey Junkie offers a wide range of surveys from market research companies, covering topics such as consumer products, media, entertainment, and more.
Once you sign up, you'll have access to surveys which you can complete at your own pace and receive rewards in exchange.
Rewards can include gift cards, PayPal payments, or even sweepstakes entries. Survey Junkie also offers various options for how to redeem your rewards, making it easy to cash out and get your earnings quickly.
How Does Survey Junkie Work?
Survey Junkie is an online survey platform that allows users to earn money by completing surveys. Survey Junkie works by connecting users with brands and companies who need feedback on their products and services.
By taking surveys, you can provide valuable insights to these companies, earning rewards in return.
When you sign up for Survey Junkie, you will be asked to create a profile so that the company can match you with relevant surveys.
You can provide information about yourself, including your gender, age, hobbies, interests, and more. This will help the company find surveys that match your profile.
Once you have set up your profile, you will start to receive survey invitations in your email.
Depending on your profile, the number of survey invitations you receive may vary. You can then choose which surveys you want to take.
When you open a survey, you'll be asked a few screening questions to make sure you qualify for the survey. If you do qualify, you'll be given instructions on how to proceed.
You may be asked to watch a video or read some product information before starting the survey.
Once you complete a survey, you will receive points that you can redeem for cash or gift cards.
Depending on the length and complexity of the survey, the amount of points awarded may vary.
The points are typically redeemable for PayPal cash or gift cards from major retailers such as Amazon, Walmart, and Target.
Survey Junkie also offers other ways to make money, such as completing offers and participating in focus groups.
Offers include downloading apps or signing up for free trials of products or services, while focus groups involve providing in-depth feedback on a product or service.
Overall, Survey Junkie is a great way to make some extra money by providing your opinion and valuable insights to companies and brands.
The process is relatively simple and straightforward, making it an ideal option for anyone looking to earn a few extra bucks.
Is Survey Junkie Legit?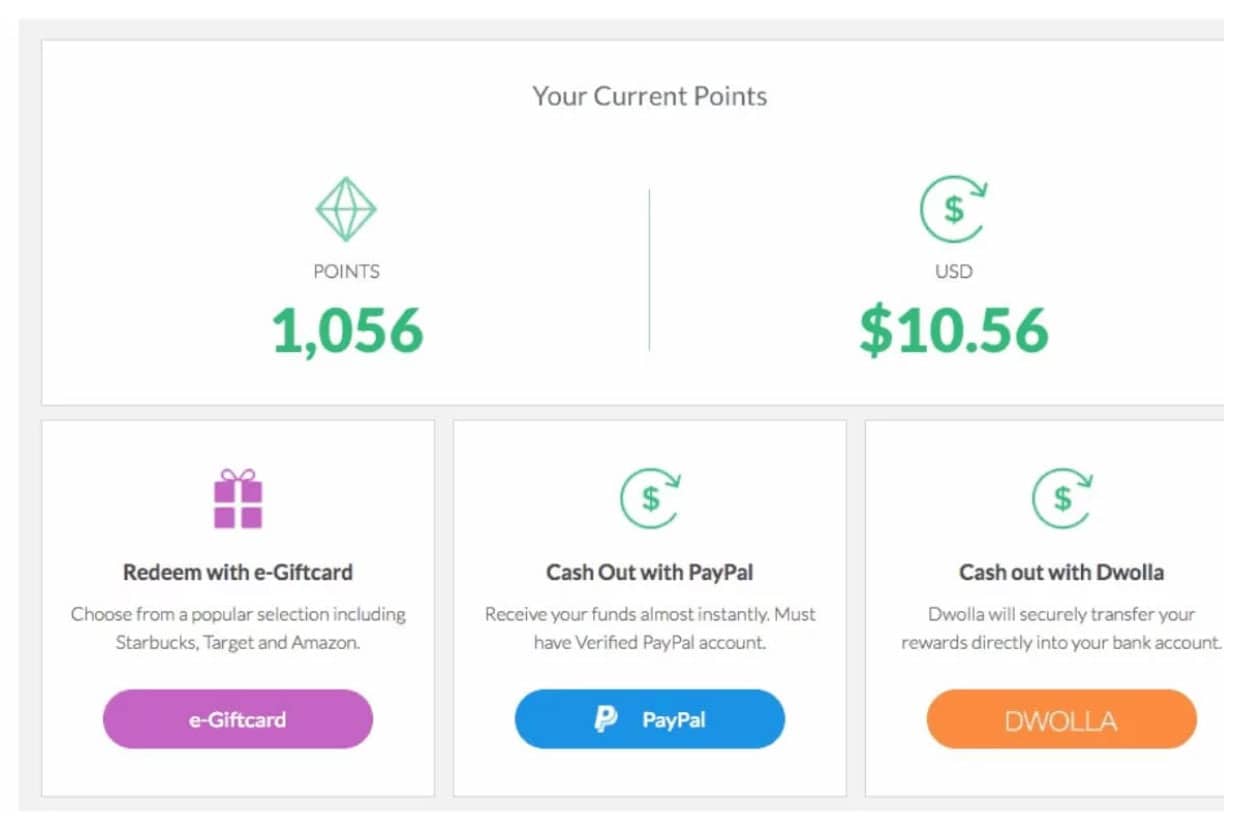 Yes, Survey Junkie is a legitimate survey site. It has been around since 2005 and has built up a strong reputation as one of the top survey sites on the web.
Survey Junkie is owned and operated by a larger, well-established online market research company called Lumos Labs.
The platform uses strict security protocols to keep your information safe and secure. All your personal data is encrypted, so your information is never exposed to unauthorized parties.
The site also has a strict privacy policy that ensures that all your survey data will not be shared with any third parties.
Survey Junkie is also accredited by the Better Business Bureau (BBB). This shows that it meets high standards for customer service and ethical practices.
The BBB has given Survey Junkie an A+ rating, which is its highest grade.
In addition, Survey Junkie has a large and active user base.
There are currently over 10 million members who have taken part in surveys and earned money. This shows that Survey Junkie is a popular and well-respected site.
Overall, there's no doubt that Survey Junkie is a legitimate survey site. It's owned by a reputable company, it's accredited by the BBB, and it has an active and satisfied user base.
So if you're looking for a legitimate way to make some extra cash, then Survey Junkie could be just the right fit for you.
How Much Money Can You Make with Survey Junkie?
The amount of money you can make with Survey Junkie depends on a few factors, including the number and type of surveys you take, the length of each survey, and the payment rate for each survey.
Generally speaking, Survey Junkie pays anywhere from $0.50 to $5 per survey. Some of the more specialized or longer surveys may pay up to $50 or more.
In addition to surveys, you can also earn extra cash by completing various tasks such as product testing or participating in focus groups.
These tasks often have higher rewards than surveys, but they may require more time and effort to complete.
Overall, it is possible to make a decent amount of money with Survey Junkie. It won't make you rich, but it can be a great way to supplement your income.
The amount of money you can make will depend on how much time and effort you put into it, but most people should expect to make at least a few dollars a day.
Does Survey Junkie work in Nigeria?
Survey Junkie is available in countries across the globe, including Nigeria. With Survey Junkie, Nigerian users can take surveys and get paid for it.
Users can access Survey Junkie on the web or mobile phone app. On the web, Nigerian users can go to Survey Junkie's website, register with their email address, and start earning money.
For the mobile app, Nigerian users need to download the app from the Google Play Store or Apple App Store, then follow the same steps.
Nigerian users of Survey Junkie can earn points for completing surveys. After collecting enough points, users can convert them into cash or gift cards.
Overall, Survey Junkie is a legitimate survey site that works in Nigeria. Nigerian users can register and start taking surveys to earn money or gift cards.
However, it is important to remember that survey sites are not designed to provide a full-time income and should be used as a side income only.